Online CPD Workshop: Exploring Race Stories Using Creative Therapeutic Tools
Date: Mon 8th February 2021
Delivered by: Rima Sidhpara
Fees:
SPTI Students (Yr 3+) & Graduate Members = £63.00
Non-Members = £70.00
About this workshop:
We all have a race story to share, if as Therapists, we have not explored our own race story, how can we assist our clients to do so? In this experiential workshop, we will explore:
Our racial identity
The importance of creative expression when words alone are not enough
Moving away from the "elephant in the room" and learning how to engage in our client's race stories
Creative tools and activities that can be used within the therapeutic relationship
Opportunity to explore and create your own race stories
Rima is an Indian Psychotherapist; she has built her own race story and will share extracts during the workshop through poetry, music, and images. We aim for this space to be non- judgemental, safe, inclusive, and respectful for all Therapists of all backgrounds, race, and cultures.

Please note: Delegates will be required to bring along some paper, coloured pens / pencils and two items that connect them to their racial identity. A computer with internet access and a webcam will be required to access this workshop being delivered online via Zoom.
Who is this workshop for?
Third year BSc and third- and fourth-year MSc students and post-qualification professionals.
About the facilitator:
Rima Sidhpara – Rima is a BACP Accredited Psychotherapist and clinical supervisor with 15 years' experience in the profession. Rima works with the philosophy that the therapeutic relationship creates therapeutic change. Rima is Practice Director of Rutland House Counselling and Psychotherapy Ltd, a practice that is well established and hosts a team of independent practitioners delivering private therapy services to the community and businesses; celebrating its 10th birthday this year. Rima is passionate about equality within the psychotherapy profession and feels Therapists should be more valued for the work they do. As such she volunteers as Deputy Chair of the executive of the BACP Private Practice division, and hopes to be part of influencing positive change within the profession.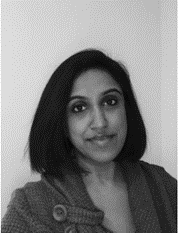 All enquiries and bookings to:
Collette Colver, Graduate Officer, Sherwood Psychotherapy Training Institute, Thiskney House, 2 St James' Terrace, Nottingham, NG1 6FW,
Email: collette.colver@spti.net

Please Note: These workshops have limited places so places are allocated on a first come first served basis